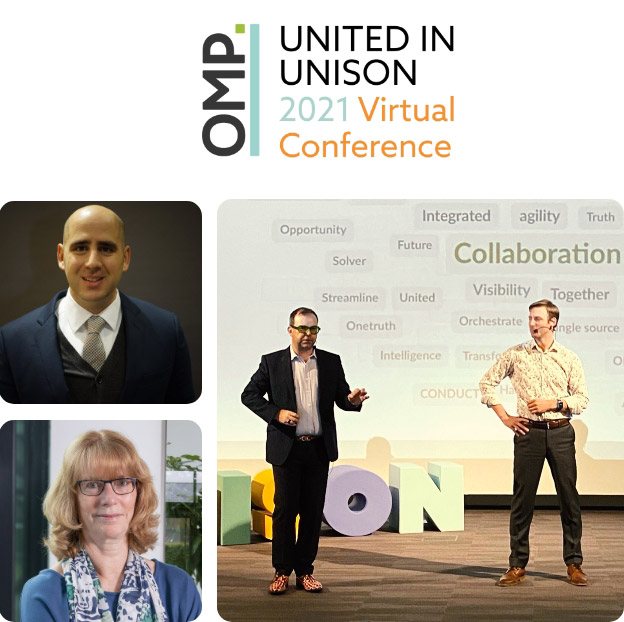 OMP's first all-virtual conference was a success and exceeded every expectation. With more than 700 customers registered, the Brella platform offered new ways of connecting and networking.
The conference theme of 'United in Unison' featured front and center in OMP and customer presentations at the February event, underlining the importance of bringing talented people and technology together in unison to become even more agile and resilient.
In two days, those who participated learned about OMP's vision and road map for the future. The interactive product demonstrations with live Q&As were highly appreciated, and the industry councils were the perfect format for sharing knowledge and expertise.
The line-up of customer testimonials was impressive, demonstrating what OMP's help in optimizing supply chains has meant to customers faced with the challenge of unprecedented times. We'd like to express our gratitude to Alexion, Aperam, Avery Dennison, Coty, Deloitte, General Mills, Johnson & Johnson, Land O'Lakes, and Tenaris for their participation.
We'd also like to thank our keynote speaker, Johnson & Johnson's Stef Vermeiren, for an engaging talk on how end-to-end visibility, collaboration, and the power of data are important to supply chains.

But most of all, a big thank you to everyone who took part. We hope you found inspiration, from your peers and from us. Whether it's in-person, virtual, or a hybrid of the two, we look forward to seeing you all at our next event.
Enjoy the behind-the-scenes aftermovie!