Atlanta, July 27, 2022 — Supply chains are hot in so, so many ways! That was the inevitable conclusion in Atlanta, as close to 200 supply chain professionals listened to lively panel discussions, inspirational keynotes, and insightful testimonials over three days in June at OMP's Shine in Unison Conference.
Over the past two years, supply chain issues have become a major attention point in boardrooms all over the world. Presentations from customers like Procter & Gamble, Dow, Kraft Heinz, Shaw Industries, and Chemours, spotlighted these globally pressing questions. Participants confirmed that supply chains are set to remain a big corporate concern in the post-pandemic era because they're critical to companies becoming more competitive, more sustainable, and more resilient. This firm belief was central to many of the exchanges during the sessions, both on and off stage.
Collaborating across companies to make supply chains more resilient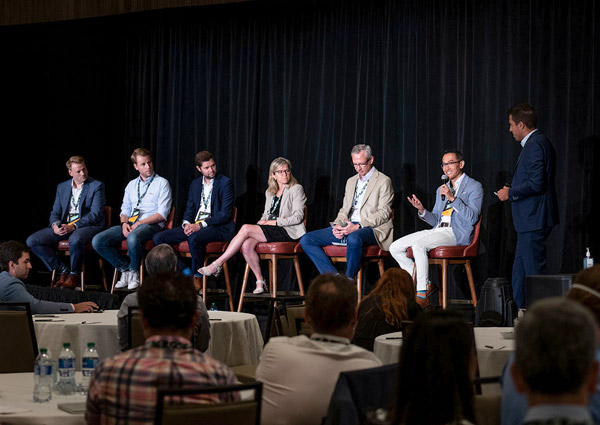 Testimonials from P&G, Dow, and Land O'Lakes further illustrated the point. P&G's Bob Herzog and Andrew Byer, for example, outlined how the company redesigned its supply chain planning processes to get end-to-end visibility in all its value streams, a prerequisite to optimizing the whole process of sourcing, manufacturing, packaging, and distribution in line with corporate strategy. The expert panel discussion with participants from OMP customers Kraft Heinz, Chemours , and Shaw Industries, and alliance partners Nulogy, Deloitte, and bluecrux , emphasized the increasing importance of cross-company collaboration as a way to make supply chains less vulnerable to faltering supply or volatile demand.
Future vision on talent and technology
Participants also underlined that, as supply chains become even more complex, technology is thought to be a major enabler in making it all more manageable. Companies are indeed making significant investments in AI technology, and the announcement of OMP release 7_01—with its vision encompassing autonomous planning, data and sustainability—was met with great enthusiasm.
The conference consensus was that technology alone will not do the trick. Companies also need to invest in people and in redesigning their supply chain processes. This is confirmed by OMP business and technology partners, many of whom attended the conference with their invaluable advice.
It was the first live OMP Conference since the pandemic, leading to an amazing vibe and excitement, as can be seen in the conference aftermovie. Many participants coming away from the well-attended sessions confirmed they learned a lot and were eager to share their aspirations and concerns with OMP specialists and partner experts.
Contact
Philip Vervloesem, Senior Vice President OMP USA
Phone: 1-770-956-2723
E-mail: pvervloesem@omp.com