OMP, a leader in supply chain planning solutions, is launching a program of generative AI (Gen AI) pilots in collaboration with Fortune 500 customers. Innovative use cases powered by Gen AI were unveiled at the OMP Conference in Barcelona on September 27 and 28, garnering enthusiastic feedback from both customers and industry experts.
In a rapidly evolving world where supply chains are growing increasingly complex, transformative digital solutions are sorely needed. OMP has been at the forefront of this evolution for many years, bringing game-changing AI solutions to customers. The company is now integrating generative AI (Gen AI) technologies into its Unison Planning™ solution to bring digital supply chain planning to the next level of interactivity and intelligence. Practical use cases are being set up, explored, and evaluated with key customers, including prestigious Fortune 500 businesses.
Critical insights across the enterprise
OMP revealed details of the programs at the Barcelona Conference in September. The use cases involve deploying cloud-based Gen AI to elevate planning knowledge among users and advance supply chain insights across the enterprise.
In the area of knowledge management, Gen AI solutions present users with a seamless chatbot-like interface when consulting OMP documentation, to understand concepts and functionality, and receive hands-on support. This will dramatically improve access to expert knowledge for both new and experienced OMP users, and increase adoption.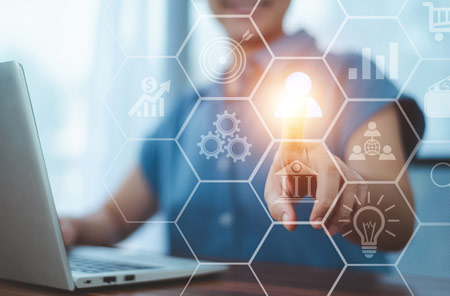 Gen AI will also allow the OMP platform to give insightful information in response to queries expressed by users in natural language. It could, for example, reveal the detailed rationale behind a proposed plan or the potential impact of changes, generating charts and macros on demand. This will give a much larger group of people within an enterprise access to supply chain information vital to the business.
Broader view of risks and trends
Gen AI will also reinforce Unison Planning by crawling additional internal data including email correspondence, documents, and spreadsheets as well as external data such as social media, news, market trends, weather and climate data, and socio-economic data. This will help users organize their work more efficiently and allow them an even broader view of the risks and trends impacting their businesses.
Instrumentalizing Gen AI through intensive collaboration with customers
"Gen AI won't just make planning easier and more efficient," according to Senior Vice President OMP USA, Philip Vervloesem, "it will allow everyone involved to focus more on decision-making and adding value. We want to instrumentalize Gen AI in supply chain planning through intensive collaboration with OMP customers. That's how we work and how our customers will get the highest value out of it."
For Product Innovation Manager, Broes De Cat, the initiatives are consistent with OMP's vision of leveraging technology to meet real-world business challenges: "We've been investing in AI for many years. As soon as Gen AI technologies became available, we began researching use cases for supply chain planning. We're now collaborating with customers to bring this to fruition."
Do you dream about taking your supply chain planning to the next level? OMP can help you achieve your ambitions and get the most out of recent developments in analytics, data science, and artificial intelligence.
Contact
Philip Vervloesem, SVP OMP USA
Phone: +1-770-956-2723
E-mail: pvervloesem@omp.com
Broes De Cat, Product Innovation Manager
Phone: +32 3 650 23 17
E-mail: bdecat@omp.com