Technology leaders: striving for zero risk
A secure, reliable, scalable, and maintainable solution
Take no risks with software, that's what every IT leader would say. Like any solution, supply chain software must be robust, scalable, and as standardized as possible. And data must flow seamlessly, empowering supply chain leaders and planners. OMP offers a secure, reliable, scalable, and maintainable supply chain solution. It is one fully integrated solution, model-based, and equipped with powerful data quality assurance tools, certified integrations, and cloud solutions. IT professionals love it as much as supply chain leaders and planners do.
Aiming for zero risk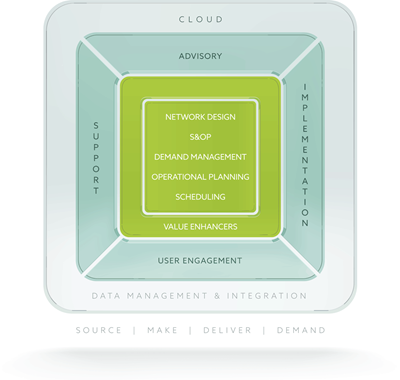 Today's IT professionals are both business enablers and security guards. Security and reliability of software solutions are among their prime concerns. Along with scalability and adaptability, to keep pace with the changing business landscape. In addition, data quality is crucial, with multiple data flows between various systems being a reality in today's business. Low-maintenance IT solutions allow dynamic platforms to interact seamlessly.
Tough requirements, right?
Fully integrated and highly configurable
Yes, but OMP delivers. We offer solutions that perfectly integrate with your IT landscape, whatever the scale and business scope. We can take care of all your infrastructure concerns, including scalability and maintainability issues. Cloud services are certified using the ISAE 3402 control framework. Access to the application is secured following the SAML 2.0 standard, and data is encrypted, both in transit and at rest.
Data flows are set up with a variety of systems, including SAP. Flows run over secure connections and use standard protocols as well as certified interfaces. Data quality is monitored using powerful validation tools, allowing invalid data to be detected, flagged, and blocked.
OMP is fully integrated and comes with industry-specific solution layers. Customer-specific implementations are always embedded into the standard solution, making them future-proof.
No surprises
That's why IT managers love OMP as much as the supply chain leaders and planners do. No unpleasant surprises.